Get well soon cards!

Nobody said I couldn't be nice every once in a while.
Posted 27 February 2008 - 07:31 PM
Quote
Pop quiz, hotshot. Garry Kasparov is coming to kill you, and the only way to change his mind is for you to beat him at chess. What do you do, what do you do?
---
Posted 27 February 2008 - 08:02 PM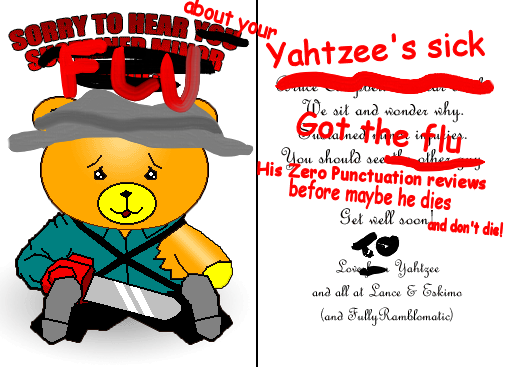 EDIT2: I forgot EDIT: I added a link.
This post has been edited by TheOrator: 27 February 2008 - 08:05 PM
"I've come here to chew bubble gum and kick ass. And I'm all out of bubble gum."
-John Carpenter's
They Live
"God help us...in the future."
-
Plan 9 from Outer Space
nooooo
---
Posted 28 February 2008 - 08:38 AM
Sorry, don't do graphics. Get well soon.
I've told you not to breathe on long haul jet flights. Forward with the hot lemon, honey and Ibuprofen. This is man "flu", aka a "cold", due to countlessly recycled viruses mixed with oil fumes. Such are the joys of jet setting.
Now about my birthday and Mother's Day .......
Don't hit your mum, she's doing her best
---
---
Posted 29 February 2008 - 07:28 PM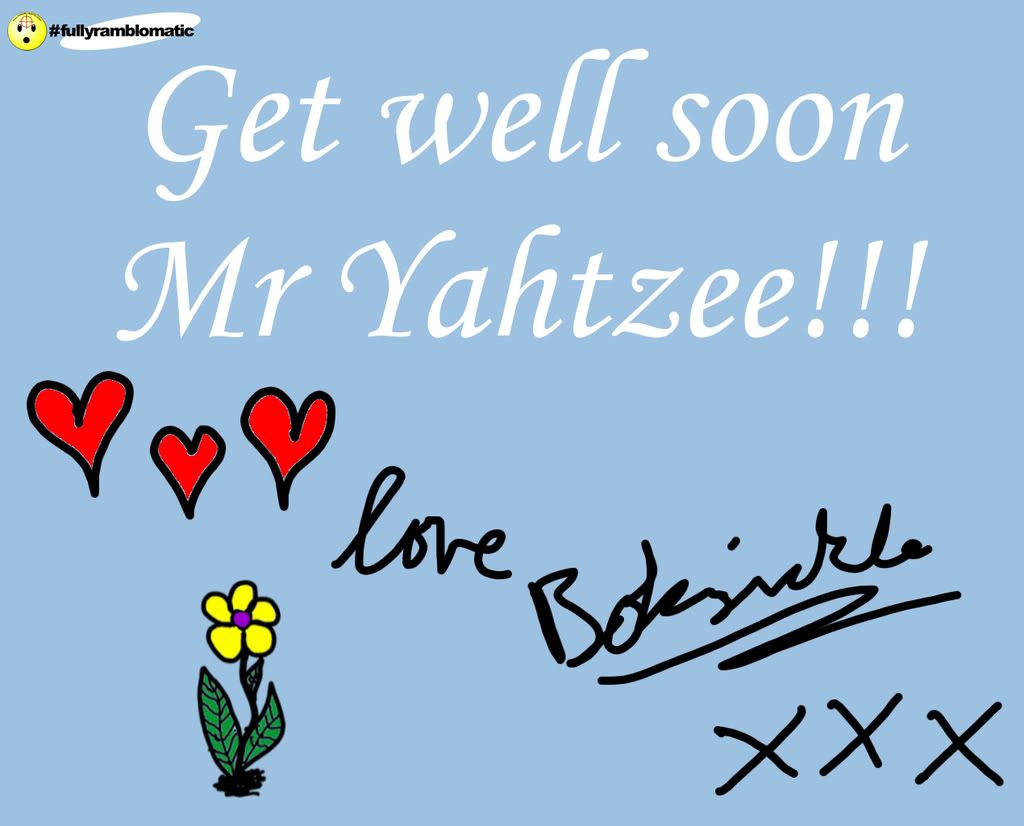 Tiredness can kill! Have a break, have a Kit-Kat.
---
Posted 02 March 2008 - 04:05 PM
I'm not pessimistic; I've just realised that the light at the end of the tunnel is an incoming train.
---
Posted 02 March 2008 - 04:32 PM
*nice and cute comic*
lol. Hope Yahtzee comes back to life and post us videos on every Wednesday for the next 30 years.
---
Posted 05 March 2008 - 04:12 AM
"Once upon a time, musta been 'round October, few years back, in one o' dose TOP SECRET LAB-MOTORIES de gubbnint keep stashed away underneath Virginia, an EVIL PRINCE, occasion'ly employed as a part-time THEATRICAL CRITICIZER set to woikin' on a plot fo de systematic GENOCIDICAL REMOVE'LANCE of all unwanted highly-rhythmic individj'lls an' sissy-boys!" (Prologue, Thing-Fish)
Quoting other forumers in your signature seems to be the latest craze around here...
My Last.FM profile.
---
Posted 05 March 2008 - 05:02 PM
---
---