Why I Don't Want an Amazon Kindle For Christmas
Two-Part Disclaimer: 1) I love Amazon.com. I would estimate that I make about 85-90% of all non-food items through Amazon.com. 2) I have never used an Amazon Kindle. However, this is a list of reasons that I don't want an Amazon Kindle, not a review after use. Please consider that before authoring your hate mail. Thank you.
God, I love Amazon.com. Amazon.com was designed with me in mind. It has nearly everything I need for sale and delivered directly to my home. I can't really think of any purchase other than groceries (which are also available through Amazon) that I have made in the last year that has not been ordered through Amazon.com. It's a great site with great service that has a huge impact on the way that I live. Up until recently the only complaint I had for Amazon was its lousy website design. Even that got upgraded recently.
Then Amazon released the
Amazon Kindle
. For those of you who are not familiar with it, check it out (
amazon.com/kindle
). It's Amazon's attempt to create a e-book reader. After dozens and dozens of failed e-book readers (
Sony's being the most recent flop
), Amazon has decided to take a whack at it. Books are the one last holdout of old media technology to not be usurped by a new digital format. And there's a good reason. There has neither been a decent digital book reader or a public demand for such technology.
Here, check out Amazon's video for the Kindle:
It's Named "Kindle"
Sure, there's lots of dumb names. The Nintendo Wii springs to mind. People get used to names pretty quickly and they don't sound as dumb anymore. The interpretation for this could be that this is going to kindle a revolution in electronic books, or that it's going to kindle new interest in this technology. However, using the term kindle to refer to a medium that is generally known for it's flammability is just dumb. I hope the second generation model is called the
Kindle 451
.
It's Hardware, Not Software
It's odd to me that Amazon would choose now to get into the hardware market. Especially with a device like this. To me it seems like hardware is not the way to go for e-books. I don't really think people are clamoring for e-books anyway, but for the people who are interested, wouldn't they be much more interested in a piece of software that would allow them to read books on any device? Amazon brags about how the Kindle can read newspapers, blogs and books and you can take it anywhere. I already have several devices that match that can do all those things. Why would I want to purchase another that is much more limited? My laptop can read blogs and newspapers (and e-books). My phone can do that and a heck of a lot more. If Kindle were the name of a piece of software that could offer inexpensive book downloads to any portable device, then that would be something to brag about. In this definition, inexpensive
has
to be defined as costing less than a paperback book.
It's as Ugly as Sin
I know this has been done to death but it's just plain ugly. There's not denying it. It's big, awkward, and ugly. Not to mention that it looks like a device that would have been released at least ten years ago. If you showed me this with no prior knowledge of the product and told me it was something Amazon was working on in 1995 I would easily believe it. In fact, it looks remarkably similar to the Apple Phone from 1983 which never really made it off the ground.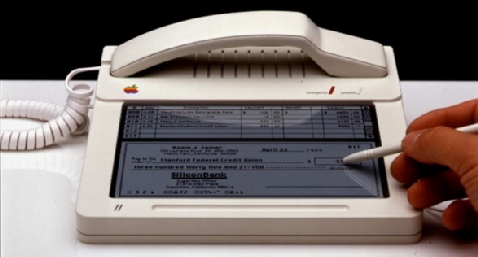 Apple Phone (1983)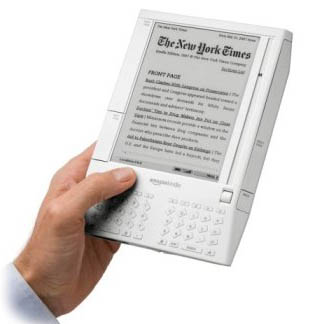 Amazon Kindle (2007)
I can't help but wonder if they were going for a retro feel or if they're just really, really out of touch. Still, a retro feel could be achieved with something about half the size.
The Price = $399
Four. Hundred. Dollars. I just can't wrap my head around this. This is what it costs to get an Xbox 360, a PS3, an iPhone or 1.6 Nintendo Wiis. This may be comparing apples to oranges, but all of these devices are much more desirable and are loaded with multimedia functionality. Comparing the apples to something also resembling apples you could also get anywhere between 100-200 paperback books on Amazon Marketplace. Sure, it takes up less space than 200 paperback books but that leads me to my next point . . .
It Costs More For a Kindle Book Than For a Real Book
Purchasing a device to read books for $399 (something my eyes do for free) is a tough enough sell. The fact that books are $9.99 to download is completely unacceptable. It costs $7.99 for a brand new paperback book at a bookstore. Through Amazon Marketplace I can purchase more paperbacks for between $0.01 and $3.99. So how is it justified that you should spend $2.00 more than I've ever spent in my life to buy something that has virtually no production cost?
It Charges You Money For Things That Are Usually Free (Part 1 - Documents)
If you want to send a document to your unique Kindle email address it costs money to do so. $0.10. Sure, that's not a huge amount of money but since most of us have been using email for at least a decade and are used to this being closer to the neighborhood of $0.00 it's kind of a slap in the face. Especially after forking out $399 to purchase the device. You can transfer files for free via USB connection, but c'mon, how hard would it be to simply allow you to email files and save the hassle of hooking up a USB cable.
It Charges You Money For Things That Are Usually Free (Part 2 - Blogs)
Similarly you can subscribe to blogs and newspapers. There are many downsides to this. It costs $1.00 to subscribe to a blog. You can only select from a list of about 300 of the top A-list blogs. It costs $1.00 to subscribe to a blog. When you have subscribed to a blog it doesn't function like you would be used to (e.g. no ability to use comments, login, etc.). It costs $1.00 to subscribe to a blog. Oh, and it costs $1.00 to subscribe to a blog. $1.00. To subscribe. To a blog. For those of you keeping track at home, you usually pay about the same about to subscribe to a blog as you do to email yourself a file. $0.00.
It's Bigger Than a Book
The Kindle is huge! They brag on the demonstration videos about how it weighs 10.3 ounces, which is less than an average paperback book. That loses a lot of its impact when you see that it's clearly much larger in size than a paperback book. Personally I'd rather have a device that weighed
more
than a paperback but was also smaller. People say they can hold it in one hand. Sure, you can also hold a baby in one hand, by cradling it in the crook of your arm. This is a two hand device that can technically be hand in one hand, but it doesn't appear to be comfortable to do so. It's light enough but just too big.
A Full QWERTY Keyboard
Not helping its size is the seemingly unnecessary QWERTY keyboard. You use it to type in books to search for (makes me think there could have been an easier way to do this) and you can use it on the onboard experimental broken web browser that is in something resembling pre-alpha. You know, that is if you want to browse the web in black and white.
It's Black & White
This e-ink technology is pretty impressive yet I am not impressed. People are used to having things in color. Sure, most books are black and white, that isn't being disputed. However, this reader claims to read blogs as well, something we're used to navigating in a full color interface. While I've heard raves about e-ink and it doubtlessly saves battery power, I can't see a benefit to using it over a color display. The second you ask that device to do anything other than read an e-book, it begins to seem all the more crappy. I don't think people are looking for a device that only does one thing and as long as the Kindle uses e-ink it's only going to do one thing well and the rest of it will seem crappy.
Again, I haven't used the device, but after reading about it on Amazon's site and looking at all the downsides to this thing, why would I ever want to? I can't even imagine an alternate universe, in an infinte number of alternate universes, where I would want to purchase this product.
I think there's a market for a way to read books on a portable device but I'm reluctant to believe that proprietary hardware is the way to break into this market.
My advice, get a subscription to
Audible.com
(if you click that link you'll get a free audio book). For $400 you can get two years and two months worth of subscription service (27.75 books!). With the Kindle $400 gets you the device with no books. You make the call.