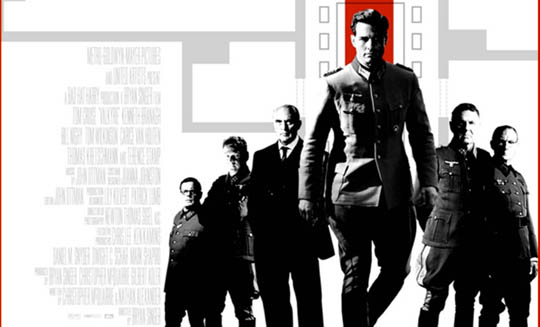 (Note: Most promotional images for Valkyrie are before he is fitted with the chainsaw arm)
I recently viewed the directors cut of Valkyrie with Tom Cruise, because the cover was red and black and I like that sort of thing. There were several problems with this film. I did not like the opening scene in Africa where his hand is severed by an enemy plane owning him to death. The title music is obviously ride of the valkyries. This is a great song, but everyone knows it was first performed by Marlon Brando during Apocalypse Now. His orchestration could not possibly be period appropriate for 1940s germany.
Secondly the main character. Klaus Von Stuffinburg, is clearly somewhat Americanized. Or at least Anglisized, as with his (and everyone else's) English accents. I understand Germany was losing the war, but it was a little early for them to start talking in English. Indeed, the opposite is true! As Bob Crane once demonstrated, Germans were encouraged to learn Russian near the close of the war, not English.
Also, while I am sure that the technology to replace a severed limb with a chain saw existed in world war 2, and that Nazi doctors might have tried it, I do not believe it was practical because of the fuel shortages. It was never made clear how Colonel Von Stuffinburg got ahold of the gasoline to run his chainsaw arm. Also, and this relates to it, when he pulled out the grenade to blow up Hitler, why was he able to pull the pin with only one hand and a chain saw? Still, the scene was beautifully done. "Blitzkrieg this, mein Fuhrer!" great fucking line! The coup plotters are also great. The bald guy who liked to explode things was brilliant, as was General Dithers. His first attempt to kill Hitler is rendered hilarious with a mixup involving different bottles of French Liqueur and several drunken Nazis. It is General Dithers' tragic death in the middle of the film that sets the stage for the final showdown between Hitler and Von Staufenburg.
The movie does indeed remain faithful to history in the fact that Hitler survived the grenade explosion, but I do not believe that cybernetic implants had anything to do with his survival. Still, his body has not yet been found, so it is possible that this was the case. Instead, the film hints at a reason for his eventual suicide: I understand that Eva Braun and Hitler were quite faithful to eachother, but it is not difficult to assume that his being frequently focused on national socialism could cause her to stray, but I don't understand why she would leave her husband and children behind so suddenly in the middle of a coup. Her last dialogue with Hitler offers a hint. She says that the meeting room in his Wolf's Lair is hot, and he sneers out "Frankly my dear, I don't give a damn!" This is a powerful moment as the actress shows the heartbreak of her character quite poignantly.
Then ending shootout is nicely choreographed, and comes after a great deal of build up as Von Staufenburg hijacks a Nazi convoy on its way back to Berlin, running the persuing SS units off the road as he comandeers the truck carrying the secret weapon. When it does finally come to the duel at the Nazi headquarters, its well worth the wait. I really want to get the poster of Von Staufenburg walking out of the explosion with his chain saw arm splashed with Heinrich Himmler's blood, while he carries Eva Braun in his good arm. I think this would have been the spot to roll to credits, but instead we see Cyber-Hitler setting up a trap for Von Staeuffer, hoping to lure him to the firing squad.
I won't ruin the climax for you, but I was quite surprised with the moral choice created in the end. As Eva Braun clings to the side of the building, the Colonel looks to his targeting screen, realizing that he is locked on and this is his only chance to kill Hitler, but instead he says "Love is stronger than hate, and I love your wife!" The jet he and Eva escaped in, to me, looked suspiciously like an F 14 Tomcat. The fact that "Highway To The Danger Zone" Plays as the jet soars away, leaving con trails in the sky above a defeated Fuhrer did not help this impression.
I give it 2 out of a possible 4 stars.
This post has been edited by J m HofMarN: 30 September 2009 - 01:53 AM