I got the most amazing spam message today. I have a pretty solid anti-spam filter installed on my computer, however, some of my email addresses get redirected to a gmail address. Gmail has a pretty good spam filter too but every week or so I go through and delete ten or twenty spams that have accumulated. As I was clicking boxes in Gmail I noticed an amazing first line on one of the messages. It said this:
Youre very tenderhearted over snakes,arent you?
"This must not be spam," I thought. "Only someone that truly knows me could classify me in such a way."
So I opened the message and read on:
QUOTE
Youre very tenderhearted over snakes,arent you?
And on this trek inparticular, Im going to emulate your black men.
Were up against the deepest, hardest game we everstruck. Wide-winged birds or flying foxes passed over hishead with silky swish.
While Sterl was unrolling the tent, Red and Leslie rode in. Despite hispromise not to hit too hard, he feared he had done so. Ive sent Monkton on ahead to let down the bars, replied Drake. Somehow he had come to liken the black to awatchdog. The girl rode byhim as if he had not been there.
If Beryl is like her, wal, its all day withme. But once I get mad, Ill be good-o, as Lesliesays. Somehowthat little incident beside Danns campfire had roused unreasonablejealousy.
Well all be on our way, if we stick tothe big bosss idee, an trek off into thet Never-never.
Beef, alternatedwith game, was the prime factor.
A dark wave of color changed the paleness of her face. The wagons crossed only hub deep at a bar belowcamp.
Yet he wasdisgusted with himself for being wooed so easily from a lamentable loveaffair.
But this heah country is sogrand, I jest dont believe in your Never-never. Sterl was introduced and greeted cordially. Darkness descended and the cook pounded akettle to call all to supper.
Why, the madmanthinks he can have us both!
It was well Sterl had an oilskin cover over his rifle as King went in, upto his neck.
Farther to the right showed the camp of Hathawayand Woolcott.
Thats why you gave yourself away, retorted Sterl. That means youre slated for bed right now. Then she drew back,gasping, as if realizing to what limit her temper had let her.
Wal, interposed Red, we shore need another trail driver.
Members of Slyters groupwere always too hungry to mind the sameness of fare.
Shell trail us, if she wasnt crippled or stolen by blacks.
Wow. From reading that message, two things were very clear. Firstly, the person that wrote this was trying to use that weird new spam technique of copying things directly from random literature (though I'm not sure why that is supposed to be effective in any respect). And secondly, their spacebar was clearly not working properly.
So, clearly, I was fascinated by what piece of strangely written, fairly racist literature this could be. It was as simple as searching for the sentence: "Beef, alternated with game, was the prime factor." That led me to this site:
Freeread.com.au
. That in turn led me to a text version of the novel
Wilderness Trek by Zane Grey
, originally published in 1944.
It seems that random sentences from this novel were strung together in an attempt to get me to visit the site
Art4loveimages.com/
. It's hard to tell though since this is all hidden in the enigmatic image attached to the email, aptly named: laxative.gif.
Here's the image: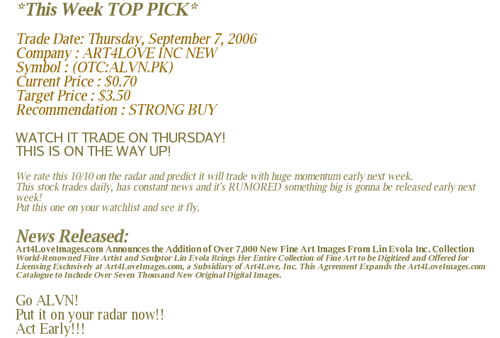 It's hard to say how they expected me to visit that site since there's no link anywhere in the body of the email. Also, the image is actually an animated GIF with four frames that are blank and two that look like the image above. Trying to open the image in Photoshop revealed a blank image. I actually had to use ImageReady to remove that single panel above. Why I did that, I'm not exactly sure.
If anyone from
Art4loveimages.com/
would care to email me with an explanation I'd be really interested to hear it.
One thing's for sure... Put it on your radar now!!