It's been hard (at least it has been for me) to ignore all the furor surrounding the status of Pluto lately. For those of you who are too busy leading a normal life here on Earth, there has been much debate lately in the scientific community over the status of Pluto. The debate is largely centered around the changing definition of what a planet is and what a celestial body needs to have to quality as such. With the debate swinging back and forth, so does the status of Pluto as a planet. The whole story could be followed like an end-of-the-season playoff bid by a sports team. One day it's in, the next day it's out.
Strangely, the story could also be followed like that of a celebrity being accused of something immoral like, for example, sexual harassment or lewd conduct. It seems like more evidence, rumors and expert evaluation is being submitted for consideration every day
The headlines read as if Pluto has done something wrong. You would get the impression from reading the articles that Pluto is being 'demoted' from planet status not because of some change in the definition of a planet but rather for something offensive that Pluto has done to the other planets -- Earth in particular.
Here's a sampling of some actual headlines:
It's official--Pluto's out
- CNET News.com, CA
Pluto demoted
- CNET News.com
The case against Pluto
- Ottawa Citizen
Pluto Poised for Demotion: Details of Thursday's Vote
- LiveScience.com
Farewell, Pluto
- Scientific American
Pluto stripped of planetary status
- Guardian Unlimited
Pluto kicked out of planet club
- Mail & Guardian Online
Each article is complete with artists renditions of what future oil paintings or graphic renderings of the 'new' solar system may look like.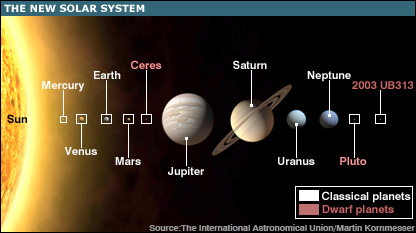 Some articles are accompanied by an idiotic list of "fast facts" such as the ones below.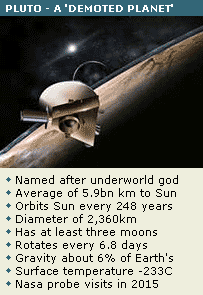 What was it that Pluto could have done? It's entirely possible that Pluto could have touched Neptune in a way that Neptune was not comfortable with.
Michael Brown -- the astronomer, not the former FEMA chief that everyone hates -- discovered the planet 2003 UB313 2003 and is upset about the whole situation. "When I was a kid, planets were special," he said. "This definition takes the magic out of the solar system." Some definitions that have been passed around would result in the solar system being host to more than twenty planets scattered from Mercury too beyond Pluto.
Using the presently accepted definition Pluto would lose its planet status. The new 2003 UB313 (affectionately named Xena by Brown) would also not qualify meaning that the solar system is, at present, only eight planets. Personally I'm a fan of any definition that would allow us to name a planet after a warrior Princess. The only thing better than naming a planet Xena would be naming a planet Brisco County Jr.
What's even more alarming is the implication to what this may mean four our Very Educated Mothers. With only eight planets this could mean that our Very Educated Mother Just Served Us Naan.
The least she could do is give us some chutney as well.