I did a stupid thing today: I watched
Star Wars: Episode I
. It's not my fault... it was a post by the forums' own
Kurgan X
that got me thinking. I realized I hadn't seen
The Phantom Menace
since prior to writing my
Star Wars: Episode I: The Phantom Menace
over four years ago.
After watching the movie I decided to watch some special features. I remembered a rather disturbing feature featuring George Lucas in 1994, sitting in his office to start writing the story for
Episode I
and proclaims, "All I need is an idea."
Watching this featurette again I noticed an interesting thing. As Lucas talks about the story, the camera pans around his office, pausing on his book shelf. I grabbed a screenshot for your enjoyment: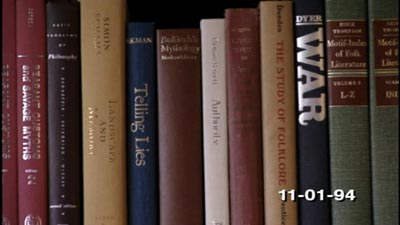 Note the fifth book from the left with the blue binding: "Telling Lies." Interesting. Especially since the later documentaries in the
Episode III
DVD seem to highlight Lucas's ability to tell lies. For example:
"Darth Vader became such an icon of evil in the first film,
Episode IV
, that that icon of evil sort of took over everything much more than I intended. If it had been one movie that wouldn't have happened, he would have been revealed to be this pathetic character at the end of the movie but now by adding Episodes one, two and three people begin to see the tragedy of Darth Vader as what it was originally intended to be. And I like the idea that the person you thought was the villain is really the victim and that the story is really about the villain trying to regain his humanity. It's really the story of Darth Vader's redemption."
C'mon, George. Just admit it. Admit that Darth Vader was not always supposed to be the hero. It's okay. We won't hate you any more for admitting it. It's okay to make up some things along the way. We promise. There's really no need to lie about it. There's no need to say that Darth Vader was not intended to be this icon of evil. C'mon! Look at him!
On another note, there is no tragedy of Darth Vader. There is no point in the prequels where one feels sympathy for Anakin and the choices he's made. There's nothing tragic about it. Darth Vader ceases to be an icon of evil and turns into an icon of stupidity. Selfish, reckless stupidity.
Lucas then goes on to watch an early silent film where some guys run on top of a train. He sits there in awe of this movie which is almost exactly like the droid factory scene from Attack of the clones.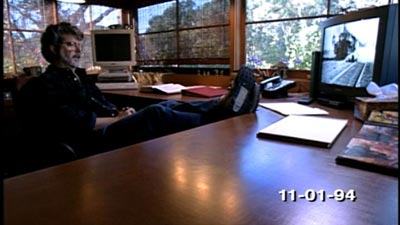 That explains a lot.