Greenspan
Posted 04 February 2005 - 12:11 PM
So the interest rate is a child molester? What does that make Greenspan then?

I finally got a sig!
QUOTE
Oh God, I had no idea! How can they keep it going? You mean, Return of the Children of the Corn etc? Children of the Corn 2? Children of the Corn and the Prisoner of Azkaban? I Know What You Did With The Children Of the Corn???? Yes, it's horrible!!!!
-Some guy on IMDB.com just finding out that there was more than one
Children of the Corn
movie
---
Posted 05 February 2005 - 07:57 PM
He's one of those bad people you read about in the news, Mister Dash.
This post has been edited by Ninja Duck: 05 February 2005 - 08:01 PM
---
Posted 09 February 2005 - 07:47 PM
One of your best writings yet Chefelf. You made your old man chuckle, and as you know that is no easy feat. If I might suggest a good catch phrase for him, it might be Whaz Up. He could scream that before every meeting of the Federal Reserve Board and scare the shit out of all the Board Members. Take it from a person who suffered thru Economics I & II, Finance, and Money and Banking, you didn't miss a thing by not being exposed to such courses.

---
Posted 11 February 2005 - 09:50 AM
I'm glad it made you laugh. Lord knows that's not the easiest thing in the world to do. I just may put it on my resume. "2005 - Made Cemetery Guy Laugh."
---
Posted 16 February 2005 - 11:48 AM
Check THIS out!
http://www.turkishpr...50.9n05dcmw.xml
If only this pic had happened earlier. It appears that Greenspan has ignited two lightsabers in preparation for his battle with the Sith Lords of the Congress.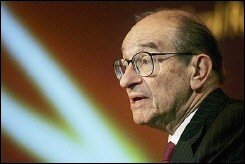 ---
---