My word! My second post in a year.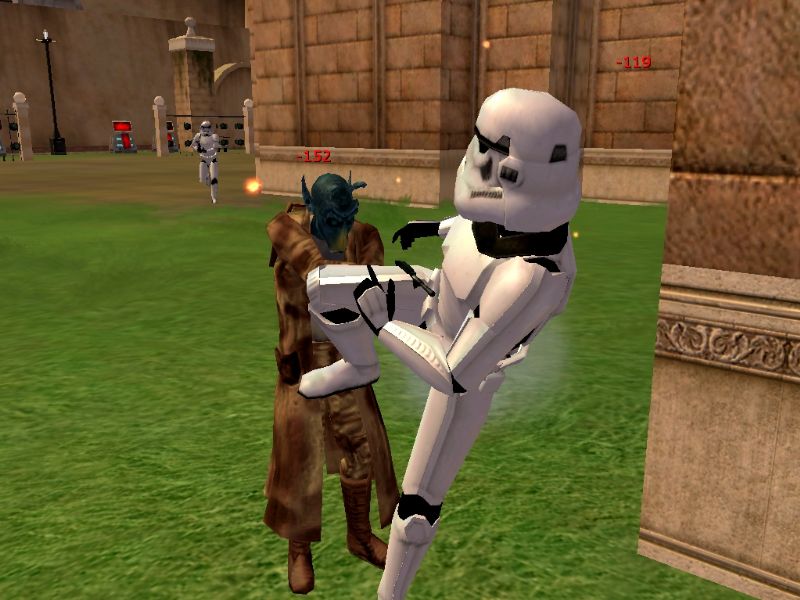 SONY is putting the Star Wars Galaxy SWG game out of its misery. The game will be shut down at the end of the year. SWG was rushed out too early in the hope of making $$$ despite the bugs. After WoW hit the big time they tried to turn it into a WoW clone, but the WoW players stuck to WoW and the non-WoW people who wanted their own Star Wars universe to play in were sacrificed for the cause.
Quote
The saddest thing I ever saw in SWG was the night before the NGE on the Euro servers... Creature Handlers taking out their favourite pets one last time, petting and playing with them. Perhaps they thought they'd still be able to pull them out; maybe they knew. I am not joking when I say that the conversations I overheard between them then brought a lump to my throat. And I knew then that what SOE was doing was a breach of faith. I became then as angry as the rest of us. (Terra Nova blog, "Order 66," comment by Chewster , 12/16/2005)
http://www.escapistm...ing-Up-Galaxies
The idiots who oversaw this explained at the time that the drop in subscriber numbers after this was fine because people would have a whine and come back. Interesting business plan, except they didn't come back. But why admit you screwed up when you can choose instead to remember only the good bits?
http://www.escapistm...r-Wars-Galaxies
EA Bioware is doing their own Star Wars multiplayer game which is the official reason for shutting down SWG. Interesting to see if this succeeds. If it doesn't, the franchise is surely dead. (The space combat sounds like it sucks BTW, but good luck to them)
http://en.wikipedia....he_Old_Republic
Other day I was in the shops and saw a Stormtrooper released in the original Kenner packaging, but when I looked closely saw the head was a different shade of white than the body. Cheap and Nasty, George!
Last word to Anon on the shutting down SWG.
Quote
OMG
by Anonymous Coward writes: on Monday July 11, @09:54PM (#36729072)
I wish anything to do with star wars would just die. I mean, this is the most overly marketed product in history and it is actually sad and retarded when another star wars "something" comes out. I mean, I was browsing a toy store looking for a gift for my nephew and could not believe that 1/2 of the lego isle was devoted to start wars lego sets, I mean, what 5 year old has even watched star wars? I remember when the special editions re-releases came out hearing 13 years old's say they never saw star wars and whether the movie was good enough to see.
Lucas has raped this concept for all that is worth and it is time that the franchise dies. There is nothing NEW in star wars, no new stories, no new characters, no new concepts. its a tired rehash of a movie that came out in the 70's and we have entered second decade of the 21st century now. The people involved in anything to do with star wars are only interested in money, period. Not artistic integrity, not advancing the franchise, not doing anything relevant or meaningful to encourage a new generation of people to get hooked into the series, only to offer crap for purchase to 40-something year old shut-ins.
I am saddened by anyone that is still enthralled by anything to do with star wars. What a simple mind and life to anticipate a new game release or to crone on reciting movie quotes or buy old memorabilia. When Lucas belched out the prequels, that is when I decided that would be the last time I would waste a dime on the star wars franchise. I can't even capitalize the title of the franchise because it has become so watered down and redundant to not warrant any special distinction, its two words from the dictionary IMHO.
http://games.slashdo...r-Wars-Galaxies
http://games.slashdo...08&cid=36729072
http://www.blistered...-shutting-down/
PS. Thanks JAMG for the invite